And he sat down and called the twelve. And he said to them, "If anyone would be first, he must be last of all and servant of all."
Mark 9:35
Let me begin this by saying that having a servant's heart is not my strongest area. Not at all. But, like anyone, I can grow and change, and I have such a strong desire to become more of a servant in every area of my life. So today I sat down and tried to think of ten ways to serve my man. Some are things that I already do, and many are things that I would like to do more often. The trick here is to not say "Hey, hey! I am serving you here! How awesome am I?"
Brew the coffee, then fix him a cup just the way he likes it.
Wake up with him in the morning and read to him from Proverbs while he shaves/dresses.
Fold his clothes and then actually put them away.
Cook for him, and then plate his food nicely.
Buy him new personal care items before his are empty.
Find a reason to borrow his car, then wash it and fill up the tank.
Iron something you know he probably wouldn't have, like his jeans or work shirt.
Hand him the remote and then don't complain about the programming he chooses.
Make special snacks during his sports game and bring them to him so he doesn't miss anything.
Here is a big one....and I will shamelessly toot my own horn here: mow the grass. Yes, I said it, mow the grass. Do it while he is at work and don't act too wiped out when he gets home. Trust me ladies, they love this. Absolutely love it. I'm not saying that you should take on all yard work until the end of time in the interest of serving your husband. I'm just saying that if you want to see a man surprised, impressed, and appreciative, then crank up that mower and get to work.
What have you done to serve your spouse? How did he react?
Linked to
Works for Me Wednesdays
over at We Are That Family.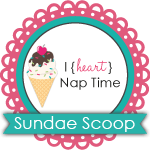 also linked up on Sundae Scoop at I heart NapTime